A Round Up of October – East Midland Regional Championships – Erewash School Sports Partnership trampoline festival – British Gymnastics National Awards and more…
Phoenix had a busy time in October. We attended the East Midland Regional Championships with 8 competitors. Kelly Allen came 3rd, Charlotte Flynn and Corey Kohut both came 2nd and Ellie Hobby, Louisa Hobby, Zoe Hobby and Amy Allen all tried new routines for their grades, making small mistakes but trying really hard. Jasmine Smith and Evie Barker took part in the synchronised competition and were looking really good until a slight mistake on the last move meant deductions from the judges.
We hosted the Erewash School Sports Partnership trampoline festival at Kirk Hallam School. 26 youngsters from local schools were given 2 hours of coaching by Phoenix coaches. Thanks to Sean and Adam White, Braidon Fradgley, Jasmine Smith, Charlotte Flynn, Evie Barker and Ellie Hobby for giving up their time to help with coaching.
We provided coaches for the Kirk Hallam holiday club during half term, over 30 children each day took part in a range of sports including trampolining. Coaches were Ben Alvey, Adam White, Leah Dacres, Katie Jones and Charlotte Flynn.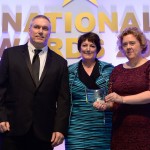 Sean and Monica White attended a night of glamour and glitz at the Ricoh Arena in Coventry for the British Gymnastics National Awards. They were winners of the National Volunteer Award for 2014.
We also were visited by Elevate Trampoline Club who needed training space whilst their venue was closed.
November is looking equally busy with a new session starting 4 November for GymFit and Adult Trampolining. We are running a club competition with some local clubs also taking part and some coaches are attending coaches courses to improve their knowledge and enable them to coach more difficult skills.
Monica White
Phoenix Trampoline Club