All ages and abilities
We offer opportunities for all ages and abilities within our established programmes. We have sessions in Spondon, and Long Eaton with members attending for a variety of reasons, whether it is to keep fit, socialise, or to reach the highest levels.
You can be sure to find a professional yet friendly service from all of our staff, ensuring everyone learns a variety of skills including twists and somersaults as well as balance, co-ordination and flexibility.

Child Protection
The safety and welfare of everyone who attends our sessions is our priority. All coaches are qualified through British Gymnastics. The club is GymMark accredited – a sign of a safe and friendly environment suitable for children and young people.
All coaches and volunteers have enhanced DBS clearance and attend
child protection courses where appropriate.
Our Welfare Officer can be contacted on.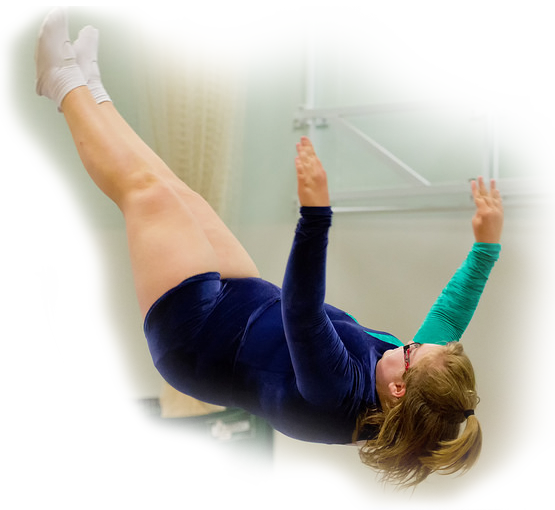 Trampolining
Trampolining can be seen as a reflection of man's desire to defy gravity. Early civilizations devised various methods of sending a person into the air, such as using outstretched animal skins to throw them up and safely catch them on their descent.
Circuses have used a number of methods to propel performers into the air for a variety of somersaults. The modern trampoline came about through the intervention of modern technology. George Nissen of the USA in his garage built the first prototype apparatus in 1934. As well as being a source of great fun at recreational level, the trampoline has also been used by the Air Force and later by Space agencies to acclimatise their pilots and astronauts to aerial activity.
The most modern trampolines can project a trampolinist as high as 10 metres where they can perform multiple somersaults and twists with ease.
Disciplines
Individual, Synchronised and Double Mini Trampoline.
A Trampoline (individual or Synchronised) competition is made up of three routines: Compulsory (set) Round/ Voluntary Round/ these make the Preliminary rounds and lastly a Final Voluntary Round. Each routine is made up from 10 skills and must start and finish on the feet.
For Double Mini Trampoline competition there are four passes, the first two in the Preliminary rounds and two in the Final round. Each pass consists of one skill performed in one of two areas, Mount or Spotter plus a dismount skill making two skills per pass.
Trampolining is the perfect sport to develop confidence and improve balance, strength, co-ordination, flexibility and aerial awareness as well as being fun and a great way to make new friends.